A little while ago I posted a tip on the fact that in social media, conversion follows conversation. Meaning that brands who a) actually have a social media presence and b) publish valuable content to engage with consumers, win out over those who don't.
It's always good to have the data to back up the argument. And thanks to the lovely market research people at Chadwick Martin Bailey, we have it. They surveyed over 1500 US adults in February 2020. Here's the bottom line:
60% of Facebook fans and 79% of Twitter followers are more likely to recommend those brands since becoming a fan or follower.
51% of Facebook fans and 67% of Twitter followers are more likely to buy the brands they follow or are a fan of.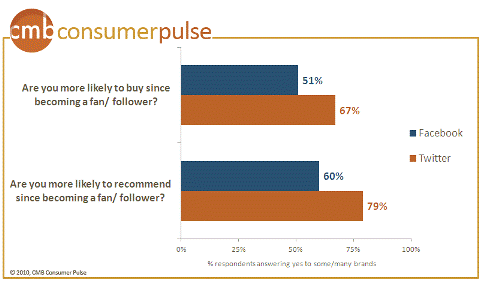 Generating positive word of mouth. And encouraging people to buy. All by being there. And publishing great content. Nice.
You can read the original post and grab the full report here.
The report also looks at some interesting stuff like what consumers think of brands that are NOT active on social media. A little sample?
"It's EXPECTED that a company have some digital face. Whether it's on FB or Twitter I don't know. But they need a strong electronic presence or you doubt their relevance in today's marketplace." Female 50-54
"If they're not on Facebook or Twitter, then they aren't in touch with the "electronic" people." Female 55-59
Wait a minute! Electronic people? Electronic presence? Those don't sound like the words of techies, geeks or social media savvy users to me. They sound just like my mum: a normal person. Using social media. To find out stuff about your business. And buy from you.
If my mum is there, it's probably time you are!